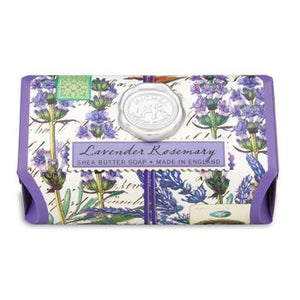 Lavender Rosemary features the distinct scents of lavender and rosemary with a hint of eucalyptus. Our triple-milled soap is silky smooth and long lasting, and contains the finest pure palm oil, glycerin, and rich Shea Butter. Made in England.
8.7 oz. / 246 g Size: 4.4 x 2.75 x 2'' / 11.1 x 7 x 5.1 cm
Fragrance: The unmistakable scent of lavender with rosemary and a hint of eucalyptus.